If you plan to see the movie and haven't made it yet, don't read this.
Image courtesy of Google
I'm a fan of Spike Lee joints. I doubt this will ever change. I also recognize that some people are not. I was excited about this since I found out it would be a Spike Lee movie. Now that I've seen it, I'm going to see it again!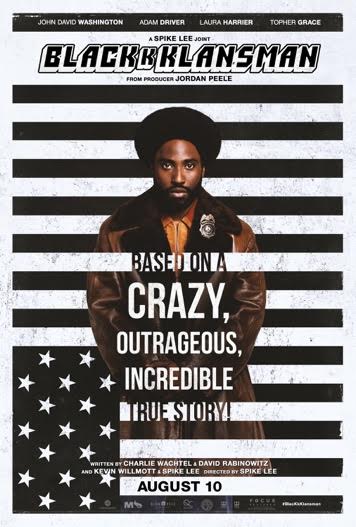 Photo courtesy of Google
America doesn't like to talk about race. Period. Don't fight me on this. This movie is based on events that took place in the 1970s. And guess what? Not much has changed.
John David Washington did an AMAZING job! I don't need to mention that he is Denzel Washington's son, because he held his own. But now I've mentioned it. All of the actors did an amazing job, in fact! I can't imagine how difficult it was to do some of the scenes, but they pulled it off and were believable.
Ron Stallworth became one of Colorado Springs' first Black police officers in a time where the term "Colored" was considered to be polite. I won't get into the entire backstory, but he ends up on an undercover team. He's reading the newspaper and sees an ad for the Ku Klux Klan. He responds to the ad and without really thinking, gives his legal name. He agrees to meet up with the chapter head, but they have to figure out someone to portray him, since he can't show up with his Afro blaring. They get it done.
The movie tells the story of him successfully becoming a member of the KKK and forming a relationship with then grand master, David Duke. I'm not sure which parts of the movie were fictional and which parts were accurate.
The movie gives a great balance of historical facts with a comedic twist that could be appreciated by all. Spike Lee's usual elements of singing and people seeming to glide without moving their feet were present. My favorite part of the movie was when Ron ended up as the security detail for David Duke and he asked him for a picture. Right as the picture was being taken, he puts his arms around him and another member of the KKK! My second favorite was when Connie accidentally blew up her husband and a few other members of the KKK.
I went to see Blackkklansman at the
Nickelodeon Theater
and was one of only a handful of African Americans in the audience. There were a few laughs at things we deemed not appropriate, to which most of the theater goers gave a very audible UHN UHN or teeth suck. They got the picture.
At the end of the movie there were clips of the 2017 Charlottesville, Virgina Unite the Right rally (uncensored) that made me cry. We are still living in a very racist time. We can't even say BLACK LIVES MATTER without someone getting upset. All the while we are upset that we even have to say it at all. Racism can't be ignored. Ignoring it does nothing to stop it. In fact, it is a silent way of saying it's ok to do it!
This movie was timeless. It made many references to things that are happening TODAY while being set in a totally different time. Our freedom isn't free. Being black while doing literally anything is getting the police called on us. Walking down the street minding our own business is getting us killed by cops. Our skin color still separates us.
I give the movie a thumbs up and recommend that you go and see it. Maybe it will enlighten you. Maybe it will make you mad. Maybe it will make you cry. Maybe it will make you give a damn.
Kudos Spike Lee.
RoJo